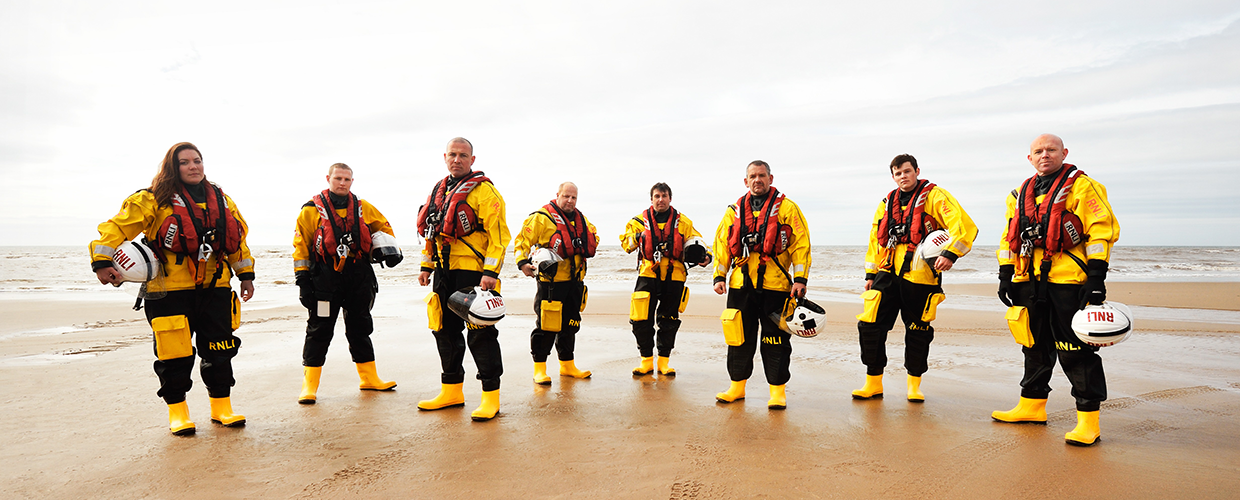 Imagine for a moment that you're part of the crew on a lifeboat. It's 2.30am on a freezing January morning and the pager's just woken you from a deep sleep in a snug warm bed. You then head out to sea in complete darkness and 10m waves rise and fall around you, ready to swamp you at any moment. Strong gale force winds throw the lifeboat around like a toy. A fishing trawler is in difficulties 23 miles out to sea.
Still want to volunteer? Read on…
Our crew members need to:
be over 17 (with the permission of your parents) or over 18 years old
be under 55 years old (inshore lifeboat) or 65 (all-weather lifeboat)
be physically fit
complete a health assessment including eyesight to ensure they meet the health standards set for the role
live and/or work close to a lifeboat station
pass a probationary period that usually lasts for one year
be a team player and be accepted by the rest of the crew
enjoy hard physical work
get on well with other people
communicate easily
obey orders when required to.
Being part of a lifeboat crew is a major commitment, which could include risking your life. Your commitment isn't only measured in the time spent involved in rescues. Increasingly, new equipment and faster boats mean that regular training programmes also account for much of your spare time. You may also be asked to help show visitors around the station and with local fundraising.
What's in it for you?
The RNLI provides first class training and equipment, guidance and support. Volunteering with us offers you the opportunity to make a difference in your local community, to save lives and be part of the larger RNLI family. We can offer you one of the most exciting and fulfilling volunteer roles available.
Still interested?
If the thrill of a shout and being part of a close-knit team appeal to you, and you have the spare time required to make a commitment, then contact your local lifeboat station. Each individual lifeboat station deals with its own recruitment. Contact the station directly by phone or by going down to the station. Find your nearest lifeboat station, contact the Volunteer Lifeboat Operations Manager to find out more about the station and available places on the crew.
If you have any further queries then contact us.
Health Assessment
Due to the extreme conditions of going to sea, you are unlikely to meet the health standards set for the role if:
there is any evidence of a colour vision defect as assessed using Ishihara plates (during the test aids to colour vision may not be worn; up to two plates may be failed and still constitute a pass);
you have had laser eye surgery in the last three months;
you are unable to read 6/6 in the better eye and 6/12 in the worst eye on the Snellen Chart at 6 metres distance even with glasses or contact lenses;
you are unable to read 6/60 with at least one eye without any visual aid;
you have evidence of any progressive disease in either eye, or suffer from any other eye condition which could disturb or limit vision, either now or within the next 5 years;
you suffer epileptic seizures or have a condition which causes sudden losses of consciousness;
your blood pressure is significantly raised and not well controlled with drugs;
you have had a severe head injury with continuing impairment;
you suffer from Parkinson's Disease, Multiple Sclerosis or other degenerative condition;
you have had alcohol or drug dependency problems within the last 3 years;
you have profound deafness or speech difficulties and cannot communicate clearly on the radio/telephone;
you have any other condition which would/could cause problems regarding your fitness to navigate/crew a vessel;

If you don't meet these standards, there are many other volunteering opportunities available.